Scholarship
The Ed Stelmach Community Foundation Scholarship has been created to support graduating high school students in their journey into post-secondary education.
The ESCF is dedicated to assisting Alberta charities - especially those in the greatest need who may not receive the funding they deserve or require. This scholarship is a reflection of that commitment. Geared towards students who may require financial assistance, the scholarship will be given to the applicants who demonstrate perseverance through difficult situations, are committed and involved in their community, and who have clearly determined and outlined their future goals. Three scholarships will be awarded annually, each consisting of $2,750.
In order to apply:
The applicant must be completing Grade 12 at a public or Catholic high school in the following towns/cities: Lamont, Two Hills, Fort Saskatchewan, Ryley, Tofield, Viking, and Vegreville.
The applicant must be accepted into a post-secondary institution and present confirmation of acceptance (available from the registrar's office)
The applicant must have a mark of 80% or higher in Social Studies.
The applicant must write a 500 word (max) essay addressing:
- Future goals;
- Community involvement/extra-curricular activities;
- Life instance(s) or event(s) when they persevered through a hardship;
- And may include specifics regarding need for financial assistance.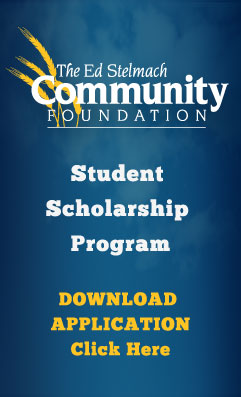 The applicant must obtain a reference letter from a community member (example: teacher, community leader, spiritual leader, etc.) in support of the applicant.
If interested in this scholarship, please print and complete the following APPLICATION FORM. Attach the application form to the essay, reference letter and confirmation of acceptance.
Please mail to:
Ed Stelmach Community
Foundation Scholarship
60, 21252 530 Township Road
Ardrossan, AB T8G 2C4
ALL APPLICATIONS ARE DUE BY MAY 1ST OF EACH CALENDAR YEAR
Any questions or concerns may be directed towards Lynette Miller (780-554-2487). We thank you for your interest in this scholarship - only those selected will be contacted.

Good luck to all the applicants.